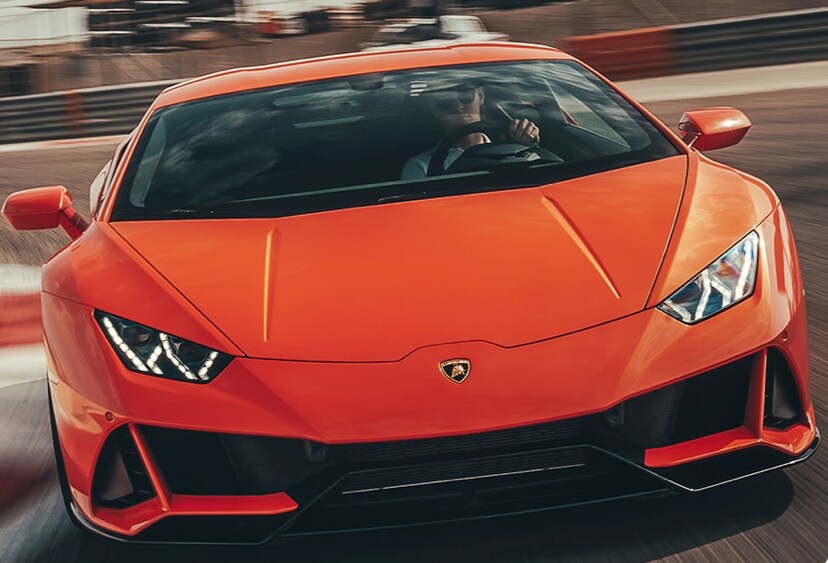 View Inventory
Contact Us
2020 Lamborghini Huracan Evo at Lamborghini Broward
Lamborghini is proud to present the all-new Huracan Evo! The next-generation V10 sports car is built upon the performance and prowess of the Huracan Performante while simultaneously integrating next-gen aerodynamics and vehicle dynamic control. Coming into the 2020 model year, the Huracan Evo boasts the engine from the Huracan Performante and a new infotainment system and this is the first Lamborghini to ever use predictive logic on vehicle dynamics control. Continue reading the rest of our 2020 Lamborghini Huracan Evo review to learn more about this ultra-sleek and immensely powerful ride!
Engine Performance
5.2L V10 Engine
Lamborghini Integrated Vehicle Dynamics
Lamborghini Piattaforma Inerziale
Safety Features
A Suite of Airbags
Side Protection System
Electronic Stability Control
Vehicle Design
Navigation
HIM Capactive Touchscreen
Pirelli P Zero Tires
Could you share more information about the Huracan Evo's features?
Inside the Huracan Evo, you will find a new 8.4-inch HIM capacitive touchscreen in the center console above the engine start button. This touchscreen puts connectivity at the driver and front passenger's fingertips. Functions controlled with this system include the status of the LDVI system, infotainment, climate, and seats. The multimedia system incorporates entertainment like the video player and wed radio and navigation. The interior is elegant and sporty at the same time offering a number of bi-color and trim options as well as lightweight materials like Lamborghini's patented Carbon Skin and Carbon Forged Composites. The Huracan Evo also presents the Arancio Xanto for the 2020 model year. This new Lamborghini four-layer color is complemented by Pirelli P Zero tires and new 20-inch Aesir rims.
What kind of engine does the Huracan Evo utilize?
Under the hood of the Huracan Evo, you will find a 5.2-liter naturally-aspirated Lamborghini V10 engine that pumps out 640 horsepower and 600 Nm of torque. This engine is uprated to produce a powerful, emotional sound and a higher power output thanks to a refined lightweight exhaust system and Titanium intake valves. The Huracan Evo model delivers a weight-to-power ratio of 2.22 kg/hp allowing the sports car to sail from 0 to 100 km/h in just under 3 seconds and from 0 to 200 km/h in 9 seconds. The Huracan Evo boasts remarkable driving dynamics that make every ride more thrilling than the previous. The Lamborghini Integrated Vehicle Dynamics serves as the technological brain of the EVO. The system boasts rear-wheel steering and torque vectoring technology for all four wheels. The Lamborghini Piattaforma Inerziale utilizes gyroscope sensors and a comprehensive set of accelerators for improved precision.
Can you tell me about the Huracan Evo's safety features?
Safety features may not be the first thing that comes to mind when thinking about purchasing a Lamborghini Huracan Evo model, but they are still there, protecting you against whatever lies around the bend. The Huracan Evo is outfitted with knee airbags, side airbags, passenger airbags, and a driver airbag. Passive safety equipment includes a side protection system and front and rear collapsible areas while active safety features include electronic stability control which integrates TCS and ABS.
Final Thoughts on the 2020 Lamborghini Huracan Evo
Are you interested in learning more about the 2020 Lamborghini Huracan Evo? If so, come on down to the dealership today and chat with our sales associates! They are incredibly knowledgeable and ready to answer any questions you may have about this sports car! We know you are going to love the Huracan Evo just as much as we do!
Apply for Financing
Schedule Service