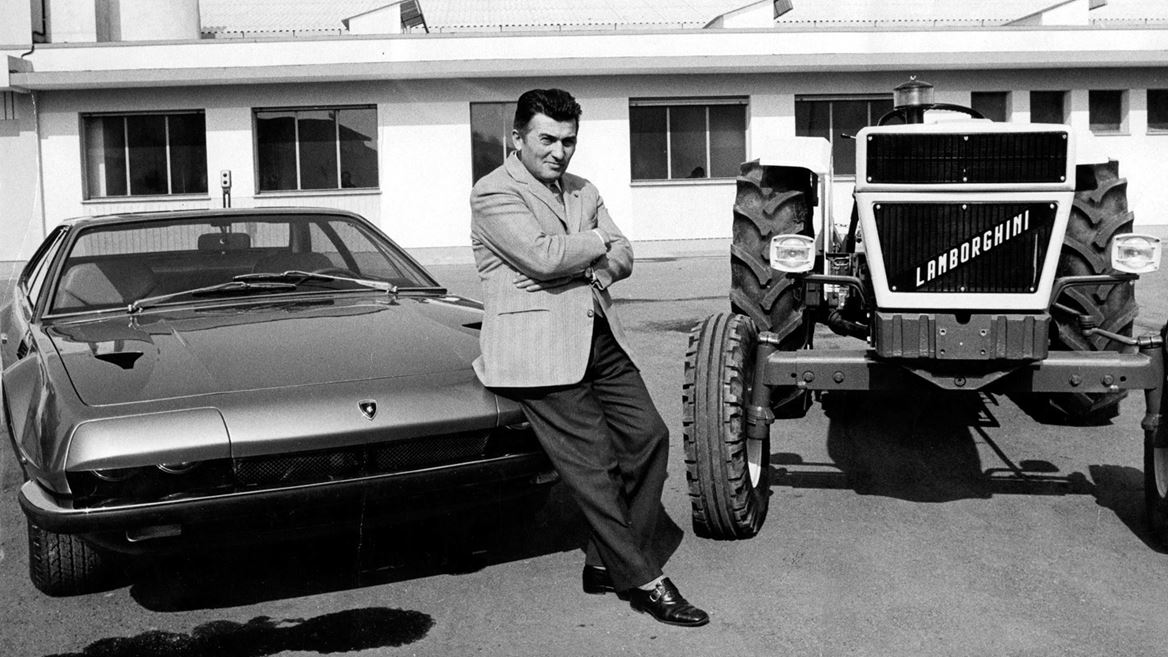 Ferruccio Lamborghini, a Biography
To fully understand the remarkable nature of Lamborghini automobiles requires knowing about Lamborghini, the man. Ferruccio Lamborghini was remarkable individual and his life experiences shaped the tractor, HVAC and automobile companies he founded. Let's start in the early days.
Was Ferruccio Lamborghini a child prodigy?
Ferruccio Elio Arturo Lamborghini was born in 1916 to Antonio and Evelina Lamborghini, farmers who raised grapes in Northern Italy.  Ferruccio was an average child in most ways but he was drawn to all things mechanical. As he grew older, he took over the repair and modification of all the tractors and machines on his parent's farm. In his teens, he needed more and he attended a technical school in Bologna to learn formal engineering concepts.
During the Second World War Lamborghini enrolled in the Italian Air Force and was placed as a mechanic with the motorized transportation group. In 1945, he became a prisoner of war and the British military forces put him to work in their motoring division. This was an invaluable education as Ferruccio gained firsthand experience keeping cars and trucks on the road with limited resources.
When did he start building tractors?
After the war he returned to his hometown and started converting war surplus vehicles into much needed tractors for local farmers. The Lamborghini tractor business became very successful and by 1949 Lamborghini was able to start building tractors from the ground up. Soon, the Lamborghini Trattori factory was founded and production grew rapidly. Under the direction of Ferruccio himself and his pursuit of reliability, Lamborghini tractors became known as the best in Italy.
When did he start building cars?
With the tractor business becoming a substantial business, Lamborghini  started another factory building air-conditioning and central heating equipment. These additional enterprises helped make Lamborghini one of the wealthiest men in Italy. Soon he turned his head towards his real passion: exotic cars.
As the story goes, Ferruccio owned multiple exotics and many were Ferraris. Apparently, one of his Ferraris kept on blowing clutches and Ferruccio, knowing quite a bit about clutches, personally went to visit Enzo Ferrari to suggest ways to make them better. Enzo refused to meet him.
Suitably annoyed, he went to work and noticed that the clutch fitted to this Ferrari wasn't any different from one that his factory mounted in one of it's tractors. So he drove his Ferrari to the Cento tractor factory and had a tractor clutch installed. The problem never returned after that.
It was there and then that Lamborghini decided he could build a superior sports car and had a new factory built in Sant'Agata just to build GT sports cars of his design. And, he had a dream: to build a GT with a Lamborghini-built V12 providing the horsepower. In  1966 Lamborghini released the Miura, the world's first 2 seat supercar with a transversely-mounted V12 engine. 
Was he at the helm of Lamborgini during the subsequent high growth years?
Unfortunately things took a turn for the worse in the 1970s. After a series of deals going bad with the tractor factory combined with a crippled economy, Ferruccio decided to sell his interest in most of his companies and retire to his estate near Perugia, Italy.
Not one to ever slow down, Lamborgini  went into yet another business, this time the wine business. His large estate La Fiorita near the Lake Trasimeno now operates a modern winemaking facility producing over 800,000 bottles of wine each year.
On February 20. 1993 in Perugia, Ferruccio Lamborghini passed away and Italy lost one of the most successful industrialists to ever live, and has a name that is instantly recognizable across the world.
In Southern Florida, your number one source for supercars is Lamborghini of Broward
At Warren Henry's Lamborghini Broward, your dreams of owning a Lamborghini can come true.
At our southern Florida location, we have many new models on-site. Come visit us and experience the incredible world of Lamborghini supercars today.