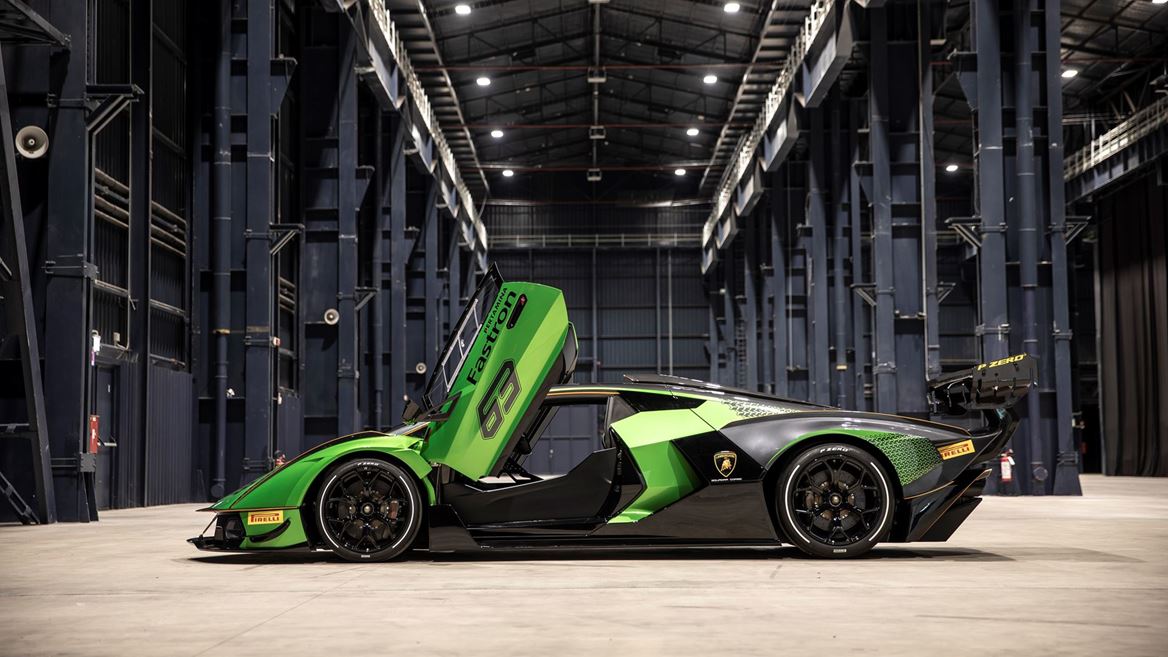 Lamborghini Essenza SCV12's Full Carbon Chassis
A Hypercar First Explained by Lamborghini Broward


The Lamborghini Essenza SCV12 is the first car on the market with a carbon fiber roll cage and monocoque chassis approved according to the Fédération Internationale de l'Automobile (FIA) Hypercar safety standards. This extraordinary achievement is the result of Lamborghini's nearly thirty years of experience in the design and use of carbon fiber composite materials in the automotive industry.
Giorgio Sanna, Lamborghini's Head of Motorsport, commented: "The Essenza SCV12 was born as a 'laboratory of ideas'. This allowed us to use technical solutions usually found in racing prototypes, such as the suspension installed directly on the load-bearing gearbox, which is an innovative solution for a GT car. In addition, it features the new carbon fiber monocoque chassis without steel roll cage, resulting from technical collaboration with the FIA, thanks to which we've started a process that will lead to an exponential improvement in safety for GT racing drivers in the future."


What is a monocoque chassis?
In general, there are two types of automotive chassis being built. The original style is called a ladder chassis, or body-on-frame design. It is a ladder-like structure made of long steel or aluminum rail-like elements with struts between. The body of a car or truck is mounted on top of this type of frame.
The second is a monocoque, or unibody, chassis. With this design, the core of the vehicle body is designed and built to support the weight of the vehicle and perform all other functions of a chassis. The first monocoque vehicle designs used steel or aluminum for their construction and date back to the 1950s. For ultra-high performance, however, carbon fiber is used today. A carbon-fiber monocoque chassis is far stronger and lighter than a metal-based one and, as a result, it is nearly ubiquitous in high-performance race cars.
Why is the FIA approval so important?
The Fédération Internationale de l'Automobile (FIA) is an association formed more than 100 years ago to represent the interests of motoring organizations and motor car users. Today, it is the main body that certifies the safety of racing vehicles and racing events around the world. Its most prominent roles are in the licensing and sanctioning of Formula One and other international automobile races.
For the monocoque chassis of the Essenza SCV12 to be approved, or "homologated" by the FIA, it means that it underwent extremely rigorous static and dynamic tests administered by the FIA. These tests certify the chassis as meeting exceptionally demanding criteria related to performance and safety standards.
What sort of tests did the FIA administer to the Essenza SCV12 chassis?
To start, the carbon fiber monocoque chassis was required to withstand forces of over 12 tons without presenting significant deformations. There are more than 20 static tests which, in addition to the chassis, involve the pedals, belts and fuel tank, and other locations.
The dynamic crash tests, on the other hand, involve hard impacts at speeds of up to 14 meters/second.  In these tests, the chassis must not be subjected to any intrusion of external parts that could come into contact with the driver, a critical safety issue, and the fuel tank can not leak.
Why is not having a metal roll cage significant?
Traditional roll cages are made of thick metal tubing. With the Essenza SCV12, the integrity of the vehicle is assured with carbon fiber structure, not a traditional steel roll cage. This is not only a benefit in terms of overall weight, but also provides a significant increase in cockpit space for optimal driving comfort.
Marco Mapelli, Lamborghini Factory Driver, commented: "Essenza SCV12 is not only a fast car that can deliver exhilarating experiences, but it's also equipped with an incredibly comfortable and spacious cabin. This is a unique feature appreciated by all gentlemen drivers, for whom it is intended."
The first units of Lamborghini Essenza SCV12 were delivered to customers in April 2021.
Your source for Lamborghini supercars in Southern Florida is the Warren Henry Auto Group
At Warren Henry's Lamborghini Broward, your dream of owning a Lamborghini supercar can come true.
You are invited to come visit us and experience the incredible world of Lamborghini supercars!