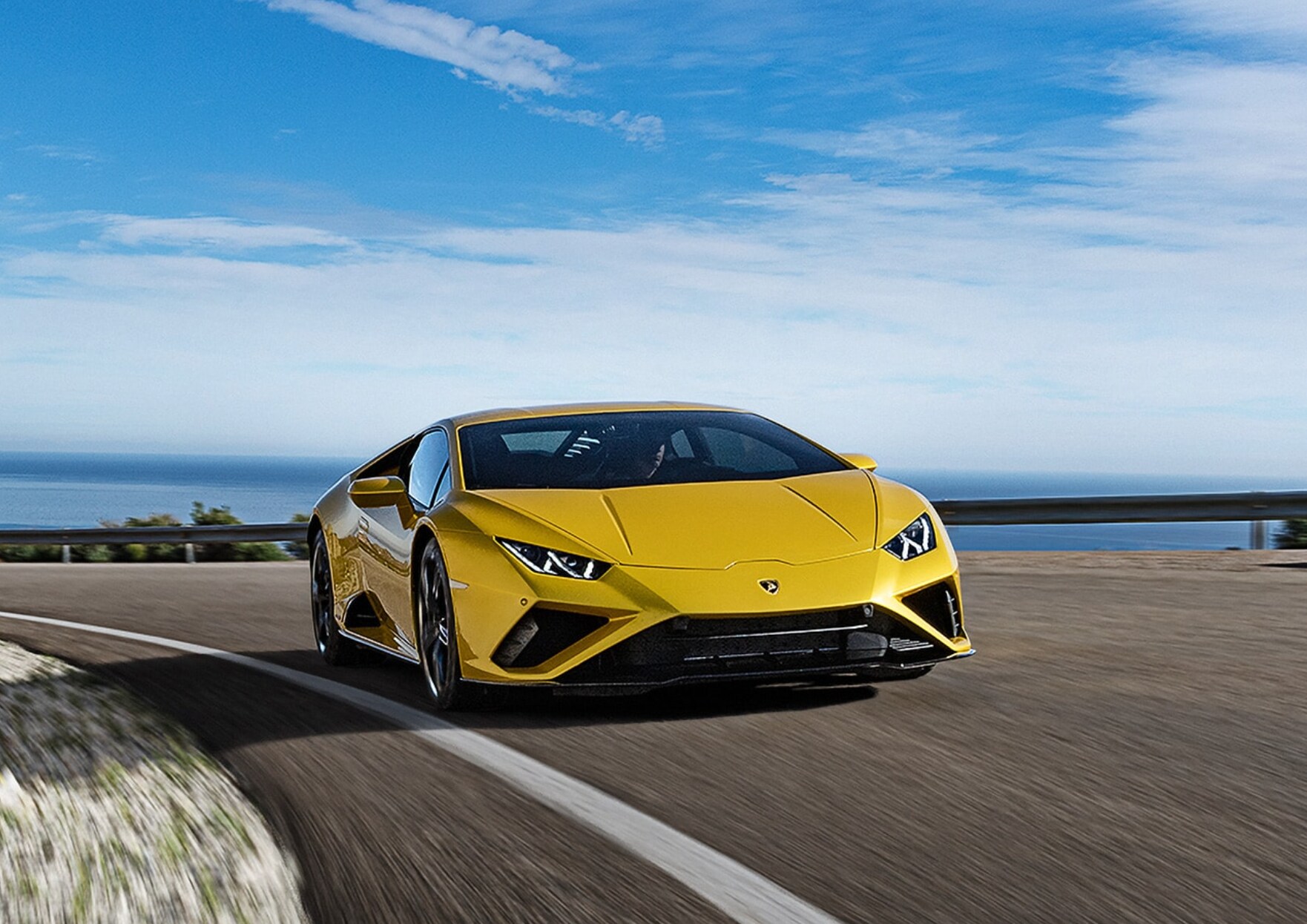 Lamborghini Huracán EVO RWD
Brought to You by Lamborghini Broward
The Lamborghini Huracan EVO RWD model is a true showcase of the super sports car's evolution, boasting predictive technology and an immensely powerful engine to deliver an unfiltered and thrilling driving experience like no other. The "return to rear-wheel drive" tagline embraces the mechanics and driving skills that create the true essence of a Lamborghini. Continue reading on as we go into more detail about what the Lamborghini Huracan EVO RWD has to offer.
Could you talk about the Huracan EVO RWD's design?
The exterior melds the iconic Lamborghini design with sophisticated aerodynamic solutions seamlessly, drawing inspiration from the head of a shark. The super sports car's lines draw the eyes from the front to the back while the large front air intake pairs with an improved aerodynamic system and a specially designed new lower rear diffuser.  The interior of EVO RWD keeps the driver and passenger connected through all the senses and physical contact. The center console houses an 8.4-inch touchscreen that delivers a sophisticated on-board experience. An innovative carbon-fiber material called Carbon Skin that is exclusive to Lamborghini, leather, and Alcantara are the three available upholstery options.
What kind of power does the Huracan EVO RWD deliver?
The Huracan EVO RWD is powered by a 5.2-liter V10 engine that sounds even more glorious than you can imagine. Pumping out 602 horsepower and 413 pound-feet of torque, this engine is mated to a seven-speed dual-clutch transmission. This delicious powertrain can send this super sports car sailing from 0 to 62 miles per hour is just under 3 seconds. This bad boy also delivers a top speed of 202 miles per hour! The rear-wheel-drive configuration was calibrated to make the Huracan EVO RWD more fun to drive.
Does the Huracan EVO RWD come with any safety features?
Safety may not be a top priority for the Lamborghini brand but they want to keep you and your passenger safe. Standard safety features include a rearview camera and parking sensors. The same systems that help the Lamborghini whip around corners also help the Huracan EVO RWD stick to the road. These systems like the advanced stability and tractions programs as well as electronic brake-force distribution and an automatic brake system help maintain safety while driving around those windy back roads. The Huracan EVO RWD also boasts driver and passenger front and side airbags to protect in the event of an accident.
Drive Home a Huracan EVO RWD Today
If you are ready to drive home behind the wheel of one of the most thrilling vehicles on the market today, come on down to Lamborghini Broward today! The Huracan EVO RWD is ready to take your on all kinds of new adventures and our sales associates will help you find the model that meshes with your lifestyle, there are quite a few colors to choose from! We are here to help you, so come on down or give our sales team a call today!