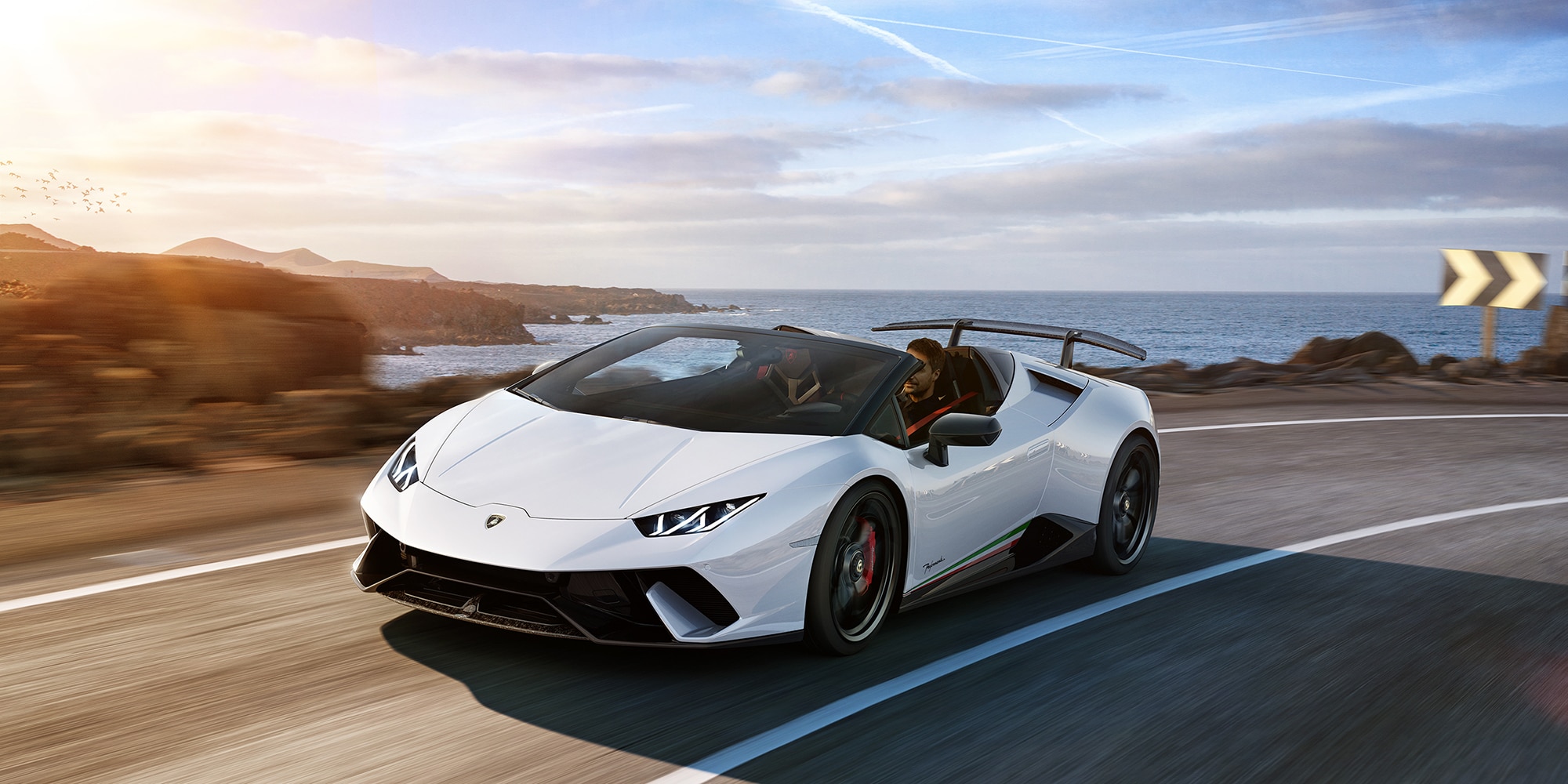 The Lamborghini Huracán Performante Spyder Delivers a Lasting Impression
If you've ever been witness to the passing of a Lamborghini model, you know that it's an experience that stays with you. The lasting feeling that you get with the Lamborghini Huracán Performante Spyder is something you can't wait to talk about with friends and co-workers. There's a reason this brand is known for its impeccable performance specifications and high level of style. Each detail is carefully considered, and the Huracán Performante Spyder is proof that mythical creatures do exist. How you choose to use this car is up to you, but the excitement will be hard to contain regardless.
Performance Specs
You know you want to take your Lamborghini Huracán Performante Spyder out to show off on track days at your local race track, and there's a good reason for that. With command over a 640-horsepower V10 engine, the Huracán Performante Spyder delivers exceptional efficiency and an LDF 7-speed dual-clutch transmission. Whether you're choosing this exotic convertible because of its looks or because of its power, you're sure to enjoy being in control of this status symbol. You know that heads will turn, and with the power propelling the Huracán Performante Spyder down the street, you can only hope that spectators don't end up with whiplash.
Not only is this car attractive, but it's with a purpose. The Lamborghini brand employed its Aerodinamica Lamborghini Attiva system that creates an adaptive driving experience to promote control, plus the Adaptive Network Intelligence Management, or ANIMA, driving-mode selector that allows you to customize the ride based on the conditions. The double wishbone suspension in the Huracán Performante Spyder allows for a superior balance between functional and sporty, so you know it's going to be a fun drive. There's no doubt that this exotic car is capable of performing to your expectations, but it's equally attractive.

The Look & Feel of Exotic Luxury
One of the top reasons for driving in a Lamborghini Huracán Performante Spyder is its ability to generate an exhilarating feeling that you only get in an exotic convertible. Its sleek exterior is aerodynamically sound, allowing for better top speed thanks to less wind resistance. The interior provides comfort to you and your passenger, plus the kind of technology that you expect from this vehicle. Navigation and smartphone integration is available in select packages, allowing you to maintain a safe eye on the road ahead while remaining connected. It's not a surprise that you get an intuitive interior that draws attention, and the available contrast color combinations and stitching gives this convertible an added touch of class.
The Lamborghini Tachometry helps add to the sporty features of this luxury model, and with 20-inch tires, full Alcantara steering wheel, branded seats, and dark chrome interior details, your Lamborghini Huracán Performante Spyder is ready to show off on any road. You deserve to drive a luxury convertible that delivers more than the open air, and with this exotic car, you're getting more than you know. Reach out to our team to learn more about what it takes to customize and bring home your Huracán Performante Spyder today.
From selecting the exterior color to choosing your lease terms, our team is ready to get you through every step of the process, so you go home with the vehicle you've been dreaming about for years. It begins with a trip to our dealership to learn about the numerous options available inside each vehicle; then you can talk with us to learn how to make that dream a reality. Have a look around our website and decide whether you're ready to experience the full force of the Huracán Performante Spyder firsthand.