Lamborghini Sián Roadster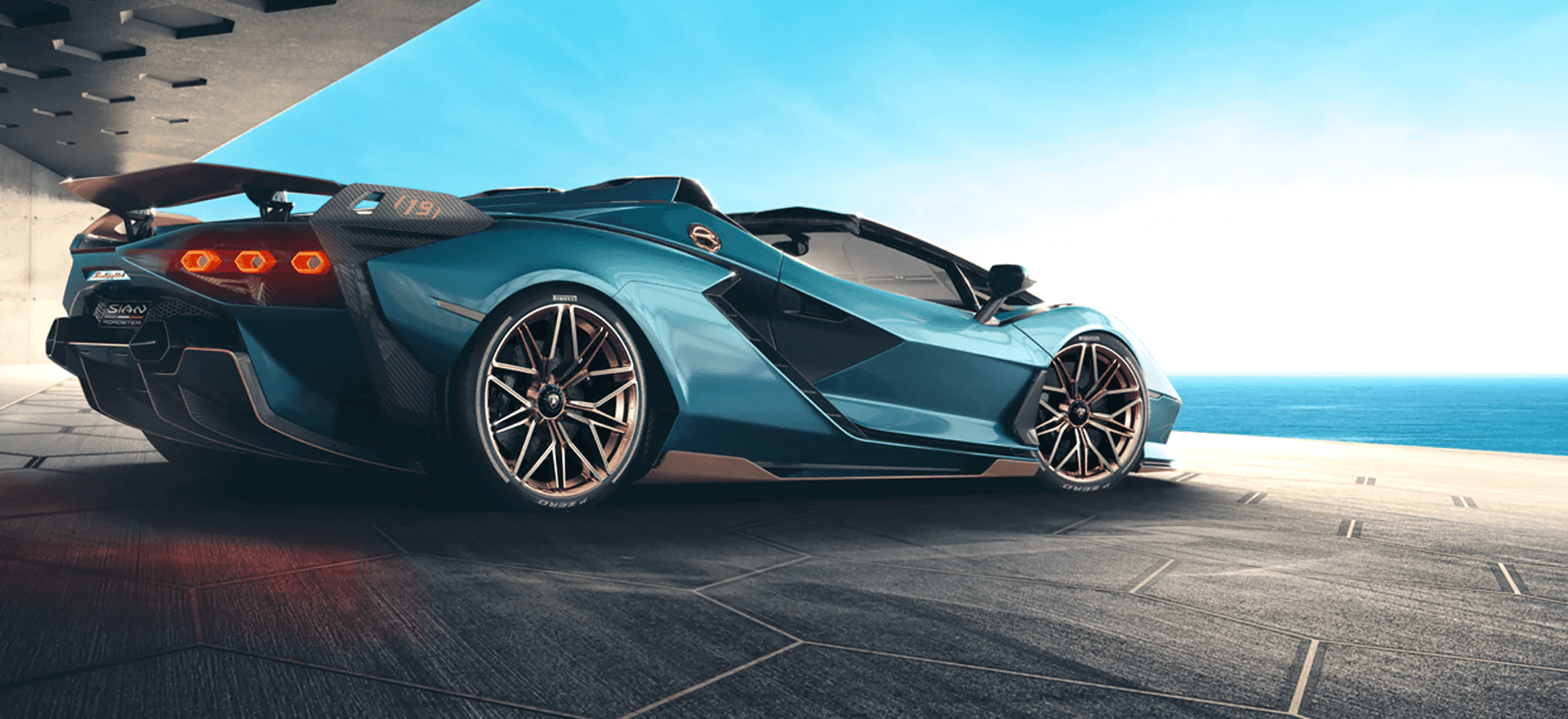 New InventoryPre-Owned InventoryContact Us
The Sian Roadster. Ahead of its time.
Designing vehicles for the future can be an incredibly rewarding yet challenging process but the Lamborghini brand has never shied away from a challenge. That is where the Sián Roadster model comes in! Combining an extraordinary design with cutting-edge technology and futuristic design the Sián Roadster delivers the performance you desire without compromising anything! Even though the future is driven by new technology, Lamborghini does not want to lose the emotions of driving as there will always be a human behind the wheel. Keep reading to learn more about the Lamborghini Sián Roadster.
The Chisled Design
The futuristic Lamborghini design features long, sculptured contours and distinctive aero wings to define a commanding and powerful profile, a shape that is pure and purposeful. The very low front, enhanced by an integrated carbon fiber splitter and the iconic Lamborghini Y-shaped headlights, optimizes aerodynamic efficiency, for a sensation perceptible from within the open-air cabin.
The Sleek Interior
Lamborghini elevates the design of its hybrid cars with sophisticated aluminum details painted in Oro Electrum (gold), the color Lamborghini has chosen to identify it's hybrid cars. The purposeful interior of the Sián Roadster embraces this elegant effect with Y-shaped features and distinctive hexagonal accents harkening back to the first Lamborghini Miura. Every touch reflects meticulous attention to detail, from the driver controls to the newly designed air vents produced by special 3D printing, a technology that allows a customer's initials to be incorporated into the vent design.
Driving Dynamics
The Sián Roadster sports Lamborghini's innovative supercapacitor application: a world-first technology storing ten times the power of a lithium-ion battery. The Sián Roadster contains smart materials such as active cooling vanes on the rear are made with unique materials-science technology patented by Lamborghini. The Sián Roadster offers a unique combination of the active steering system (Lamborghini Dynamic Steering) and the rear-steering system (Lamborghini Rear-wheel Steering), delivering maximum dynamic performance. The 4-wheel-drive system on the Sián Roadster is optimized to work specifically with the new active systems, in particular rear-wheel steering. The Sián Roadster features magneto-rheological front and rear shock absorbers with pushrod systems, which constantly modify suspension behavior according to the road conditions and the selected driving mode.
Find the Sián Roadster for sale in Davie FL
The Lamborghini Sián Roadster is unlike any other! If you are interested in learning more about this super sports car give our sales team a call. Schedule a test drive to get behind the wheel of a Lamborghini today! Lamborghini Broward is conveniently located in Davie FL. We are standing by to help you achieve your dreams of owning a Lamborghini!
Make an Inquiry