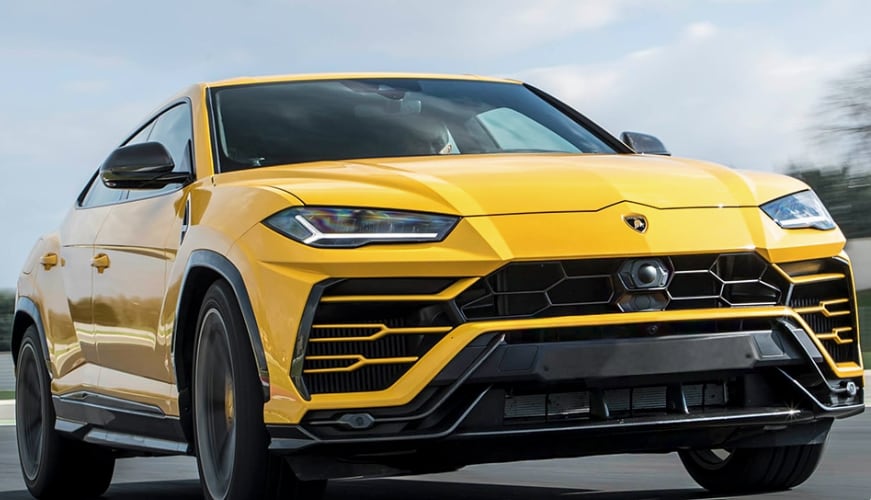 Performance of the 2019 Lamborghini Urus
The Lamborghini Urus has the soul of a super sports car and true functionality of a typical SUV. It has been called the world's first Super Sport Utility Vehicle. Lamborghini DNA runs strong through the Urus, and its outstanding performance makes it unique from anything else on the road today.  The Urus holds claim to having the best weight-to-power ratio on the SUV market today. Considering this, the Urus' performance level is unrivaled. 
What type of powertrain does the Urus use? 
The Lamborghini Urus gets its power from a V8 bi-turbo engine that puts out a maximum power of 650 HP.   The engine is mated to an 8-gear automatic transmission. The system uses a permanent 4-wheel drive system with active torque vectoring. Other performance features include adaptive air suspension with active dampers, a roll stabilization system with continuous and immediate response, and carbon ceramic brakes. This enables the driver to perform well in a wide variety of driving situations.  Whether your favorite driving spot is a mountain road, the city streets, country roads, or even the racetrack, the Urus can handle it all, with ease.
Can you tell me more about the Urus' ANIMA System?
The Urus Super Sport Utility Vehicle uses an ANIMA Selector to make driving fun, easy, and safe. ANIMA stands for Adaptive Network Intelligent MAnagement. The ANIMA Selector is a key factor in Lamborghini driving dynamics, allowing drivers to choose the desired setup, as the Urus adapts according to the driving mode selected. There are three on-road modes to choose from: STRADA for easiness of driving, comfort and safety; SPORT for agility, responsiveness and fun to drive; and CORSA for precision and maximum performance. Then, there are three off-road modes that take performance even farther.  These include NEVE, which ensures ease and safety even on slippery surfaces; TERRA, ensuring comfort and ease in off-road conditions; and SABBIA, which is perfect for sandy surfaces. Lastly, the EGO mode enables the driver to redefine the vehicle's dynamics according to preferences and needs in terms of steering, suspension and traction. 
Looking for SUV convenience and a supercar in one? The only answer can be the Lamborghini Urus!  It delivers pure driving emotions and personalized driving dynamics. If you are interested in a Urus purchase or have questions, give us a call or fill out our contact form today! We look forward to serving all of your Lamborghini needs!